Prof. Boccaccini, Gastredner auf der BioMAH Konferenz in Rom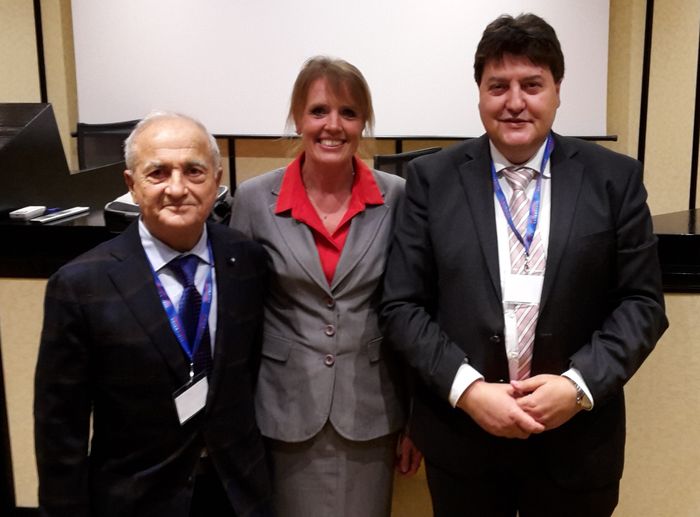 Prof. Boccaccini war ein Mitglied des International Scientific Committee der 1. Biennial Konferenz BIOMATERIALS FOR HEALTHCARE: Biomaterials for Tissue and Genetic Engineering and the Role of Nanotechnology (BioMAH), welche im Hauptsitz des Italian National Research Council (CNR), Rom, Italien, vom 17.-20. Oktober 2016 stattfand. Prof. Boccaccini war auch Gastredner auf der Konferenz.
Er präsentierte den Vortrag: "Soft Tissue Regeneration with Bioactive Glasses: Emerging Evidences and Successful Outcome", welcher im Rahmen der "Bioactive Glasses" Sitzung in Erinnerung an Prof. Larry Hench stattfand. Unser Institut wurde außerdem von Kai Zheng (Doktorand, im Bild mit Prof. Boccaccini) vertreten, der zwei Posten mit den Titeln "Synthesis and characterization of cerium-containing mesoporous bioactive glass nanoparticles for biomedical applications", mit Ergebnissen unserer Arbeit innerhalb des EU Horizon 2020 Projekts MOZART ("Mesoporous matrices for localized pH-triggered release of therapeutic ions and drugs") und "Biocompatible hierarchical porous scaffolds of magnesium silicate/poly(butylene succinate) composite for bone regeneration", mit Ergebnissen unserer DAAD geförderten Zusammenarbeit mit Prof. Jie Wei 's Forschungsgruppe am Engineering Research Center for Biomedical Materials of Ministry of Education in East China University of Science and Technology, Shanghai, China. Prof. Boccaccini leitete die Sitzung "Bioceramics: Tradition and Innovation Trends" und er moderierte den runden Tisch "Multidoped silico-calcium phosphates as scaffolds for proliferation and differentiation of cells (MUSICAP)".
Auf den Fotos: Prof. Boccaccini mit Prof. Luigi Ambrosio, Direktor des CNR Chemistry Department, mit Prof. Antonio Ravaglioli und Prof. Julietta V. Rau (CNR, Institute Structure of Matter, Rom), Konferenzvorsitzer, und mit Prof. Chiara Vitale Brovarone, Polytechnic of Turin, Koordinatorin des EU Projekts MOZART. (Zum Vergrößern, Bilder anklicken)