Kick-off-Meeting des internationalen (Pakistan-UK-Deutschland) Projekts zu antibakteriellen Materialien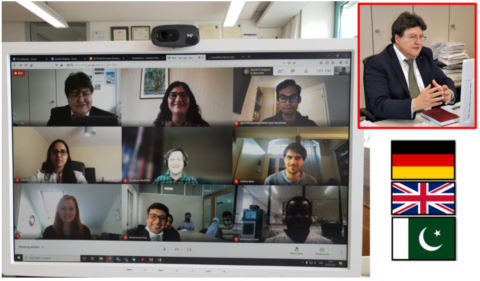 Am 5. März 2021 fand das Kick-off-Meeting des internationalen Projekts "Development and characterization of drug free bioactive glass nanoparticles for biomedical applications" statt, das vom British Council im Rahmen des Pakistan-UK Education Gateway Scheme gefördert wird. Es gab Präsentationen von den drei Hauptforschern: Dr. Muhammad Atiq Ur Rehman (Alumnus unseres Lehrstuhls, PhD-Abschluss 2018), derzeit am Department of Materials Science & Engineering, Institute of Space Technology (IST), Pakistan, Prof. Ipsita Roy, Department of Materials Science and Engineering, University of Sheffield, UK, und Prof. Aldo R. Boccaccini. Auch die Forschungsprojekte, die in den verschiedenen Labors durchgeführt werden, wurden vorgestellt.
Im Rahmen des Projekts werden antibakterielle bioaktive Glasnanopartikel für biomedizinische Anwendungen entwickelt, insbesondere zur Entwicklung von Kompositbeschichtungen zur Verbesserung der Leistung herkömmlicher metallischer orthopädischer Implantate.
Im Rahmen dieses Projekts werden Doktoranden und Post-Docs aus Pakistan und Großbritannien die Möglichkeit haben, einen Teil ihrer Forschungsprojekte an unserem Lehrstuhl durchzuführen.