Euro BioMat Konferenz in Weimar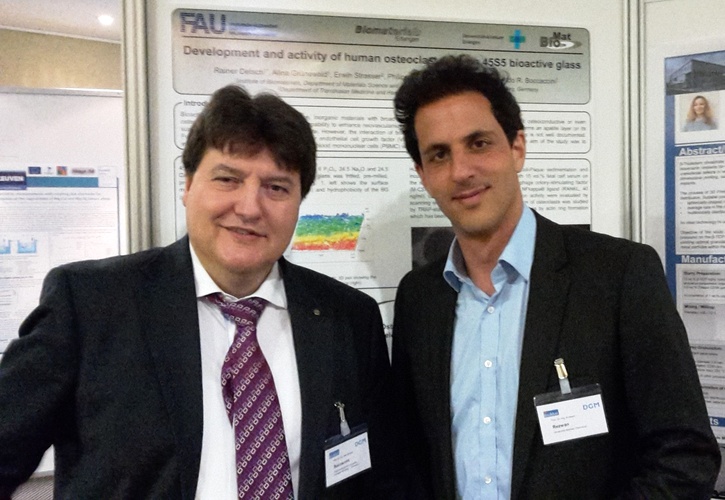 Prof. Boccaccini hielt den Vortrag: "Bioactive Glass Based Nanostructured Scaffolds for Vascularized Bone Tissue Engineering " in der Session: Tissue Engineering und Regenerarive Medizin an der EuroBioMat 2015 Konferenz, die in Weimar, Deutschland, vom 21. – 22 April 2015 stattgefunden hat. Prof. Boccaccini war Mitglied des Organisationskomitees des EuroBioMat 2015 und er präsentierte auch die folgenden drei Poster/Vorträge/Posterbeiträge:
"In vitro effects of Cu doped 45S5 bioactive glass and lipid peroxidation on the growth of human osteoblast-like cells", in Zusammenarbeit mit Dr. Lidija Milkovic und Prof. Neven Zarkovic, Ruder Boskovic Institute, Zagreb (Kroatien);
"Development and activity of human osteoclast cells on 45S5 bioactive glass" in Zusammenarbeit mit R. Detsch, A. Hoppe, A. Grünewald und Profs. E. Strasser, P. Steiniger, Universitätsklinikum Erlangen;
"Development and evaluation of 45S5 bioactive glass based scaffolds coated with selenium nanoparticles or with poly(lactide-co-glycolide)/selenium nanoparticles", in Zusammenarbeit mit der Arbeitsgruppe von Prof. Magdalena Stevanovic, Centre for Fine Particles Processing and Nanotechnology, Serbian Academy of Science and Arts, Belgrad (Serbien).
Zwei Poster in Zusammenarbeit mit der Gruppe von Prof. Jürgen Stampfl (Institut für Materialwissenschaft und Technologie, TU Wien) über generative Fertigung von bioaktivem Glas Scaffolds für Tissue Engineering von Knochen wurden ebenfalls vorgestellt:
R. Gmeiner et al., "Additive Manufacturing of High Strength Bioactive Glass Scaffolds for Load Bearing Applications", und
J. A. Schönherr et al., "Lithography-based Additive Manufacturing of High Strength Bioactive Glass and Glass Ceramics for Medical Applications"
Im Bild Prof. Boccaccini mit Prof. K. Rezwan, Universität Bremen, an der Poster-Session.